Revista TSC ; Tecnologias, Sociedade e Conhecimento (Journal TSK Technologies, Society and Knowledge)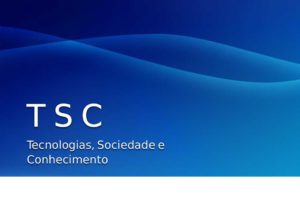 TSC is an annual peer-reviewed periodical organized by the Nucleus of Informatics Applied to Education (NIED) of the University of Campinas (UNICAMP) since 2013. The journal is dedicated to the publication of scientific articles, descriptive accounts, book summaries, and thesis and dissertation summaries on the topic of Informatics in Education and related areas.
In November of 2019, we will launch a special issue on the theme of "Creative Learning". The deadline for submissions is August 05, 2019 through the system  http://www.nied.unicamp.br/revista.
To prepare critical and active citizens in a constantly changing society, it is important that from an early age everyone has opportunities to be creative, to express themselves, and to test their ideas. The goal of Creative Learning is to create educational opportunities that promote: the development of sharable objects in the physical or virtual world, stories, presentations, artistic installations, etc.; interests and passions of students; collaboration and mutual respect; playful exploration and the perception of "mistakes" not as a defect but as an attempt that is part of the learning process. The new information and communication technologies have much to contribute to the implementation of Creative Learning environments, encouraging active students, not as consumers of information, but as the creators of information. Creative Learning requires open tools that incentivize the construction of meaningful projects, the exchange of ideas, and the reflection on processes of production and learning. For Creative Learning, digital technology should be seen primarily as a means and not as an end in itself.
Articles for the special issue can address new systems, products, educational practices or professional development, with or without digital technologies. The scope can range from pre-school to adult education, within or beyond formal learning environments. We prioritize certain topics of interest, although not exclusively:
Development of new technologies for creative learning;
Strategies, activities, materials and tools that help to design or construct creative learning spaces;
Methodologies (maker, active, creative) for teaching and learning in formal and informal education;
Methodologies for teacher development in creative learning:
Creative Learning integrated into teacher readiness programs in schools of education
In-service public school teacher development
Creative learning integrated into the school curriculum;
Evaluation methods in creative learning;
Implementation of systems to help students and teachers administer and share their own projects;
New programs and mechanisms to facilitate the connection between schools and their surrounding communities, creating relationships among students, teachers, decision makers and other members of the educational ecosystem;
Utilization of diverse materials (recycled waste, electric and electronic devices) to explore notions in art, science, technology and mathematics, and to use them in the development of creative pedagogic activities with students and teachers;
Promotion of computational thinking, of creativity, and collaborative spirit through tinkering – exploration, experimentation, remix, sharing of ideas and solutions;
Articles must be written in Portuguese or English, should not exceed 20 pages, and should follow the formatting guidelines in:
Editors in Chief
Dr. José Armando Valente, IA/NIED – UNICAMP, Brazil
Dra. Maria Cecília Calani Baranauskas, IC/NIED – UNICAMP, Brazil